TRAVEL
|

EXPLORE

|

STAY

|

BE SAFE
The Ultimate Guide to the Best Accommodation in Southport, Gold Coast Hotels, Apartments and Backpacker Hostel stays.
Your Ideal Gold Coast Holiday Destination
Why choose Southport for your next vacation?
Southport, a bustling suburb on the Gold Coast, offers a range of accommodation options. From backpacker hostels to luxury apartments, and Southport hotels. Southport has something for every type of traveller. This guide provides an in-depth look at the best accommodations in Southport, ensuring you make the most of your holiday vacation stay on the Gold Coast.
Search for best accommodation deals in Southport, Gold Coast, book your accommodation online here.
Have a look at our hotel booking search engine and find the best accommodation deals and quotes for your next holiday to Southport. Put in your hotel vacation dates and destination and compare Soutport accommodation deals and room price quotes across all the mager hotels in Southport, Gold Coast.
Remember to book your Travel Insurance now
Travel Insurance has become an important part of planning and booking holiday accomodation and flights. It is best to book your travel insurance at the same time as all your other travel bookings. Did you know that the best travel insurance begins the minute you purchase your insurance. It will cover you for unfore seen events before your holiday or trip comences abd during your holiday adventures. So dont delay get a quote today and book it now.
Why Choose Southport for Your Gold Coast holiday?
Southport, positioned between the bustling Surfers Paradise and the laid-back Broadbeach, offers a perfect location for travellers. With attractions such as Broadwater Parklands and proximity to Australia Fair Shopping Centre, it's no wonder travellers choose Southport as their place to stay.
One of the Gold Coast's most iconic beaches, Surfers Paradise, is just a short drive or tram ride away from Southport. This means that while you can enjoy the serenity of Southport, you are never too far from the hustle and bustle of Surfers Paradise with its shimmering sands, world-class surf, vibrant nightlife, and a range of dining and shopping options.
Similar to Surfers Paradise but with its own unique charm, Broadbeach offers a diverse experience. Whether it's the casino at The Star Gold Coast, the Pacific Fair Shopping Centre with its luxury brands, or the serene Kurrawa Beach, Broadbeach is an attraction in its own right. Staying in Southport allows you easy access to explore all these facets of Broadbeach without necessarily being in the middle of its hustle.
Situated in Southport itself, the Broadwater Parklands is an expansive urban park with views of the Gold Coast Broadwater. Perfect for families, solo travellers, or couples, it offers recreational activities, interactive playgrounds for kids, and numerous picnic spots. Regular events and festivals are hosted here, making it a cultural hub as well. The Rockpools, a water playground, is a favorite among kids, while the pier offers splendid views, especially during sunset.
Located in the heart of Southport, the Australia Fair Shopping Centre is a shopping haven. With over 210 specialty stores, cinemas, and a vast food court, it promises a complete retail therapy experience. Its iconic location overlooking the Broadwater adds to its allure, making shopping here not just about the buys but also the views.
What Makes Southport Hotels Stand Out?
Southport hotels, such as the Meriton Suites Southport, offer a combination of comfort, value for money, and convenience. Many hotels in Southport provide ocean views and are equipped with amenities like free wifi, pool areas, and well-equipped rooms. The staff were very friendly, adding to the overall experience.
One of the tallest buildings in Southport, the Meriton Suites offer stunning views of the coastline and hinterland. These suites are known for their spacious, self-contained accommodations featuring gourmet kitchens, luxury furnishings, and top-of-the-line amenities. Guests can enjoy indoor and outdoor swimming pools, a sauna, and a fitness center.
Located close to Southport in Main Beach, Palazzo Versace is the epitome of luxury. This opulent hotel boasts a design crafted by the legendary House of Versace, offering guests an experience of unparalleled grandeur. It comes complete with award-winning restaurants, a spa sanctuary, a private marina, and a Versace Boutique for those seeking luxury shopping.
Another luxury option close to Southport in Main Beach, this resort offers guests beachfront access with ocean views. With its lagoon-style pools, fitness center, award-winning dining options, and close proximity to attractions like Marina Mirage Shopping Centre, it's a favorite among travelers seeking a luxurious stay.
Situated in Southport, this accommodation offers spacious villas perfect for families or groups. Featuring a tropical ambiance with its gardens and pool area, it provides a relaxing atmosphere. Each villa is equipped with modern amenities ensuring a comfortable stay.
While not a traditional luxury hotel, Jadon Place offers well-furnished and comfortable apartments for longer stays. Located in Southport, it's close to many attractions and provides facilities like a heated outdoor pool and BBQ facilities.
Gold Coast Backpacker Paradise: Hostels in Southport
For the solo traveler or those on a budget, Southport offers hostels like the Surfers Paradise International Backpacker Hostel. Known as the cleanest hostel one can ever find, it's a value for money, with reviews often praising the best shower pressure experienced.
Located in Southport, Surfers Aquarius Gold Coast provides both dormitory-style and private accommodations. The hostel offers amenities like a communal kitchen, an outdoor pool, and a lounge area with games and entertainment. It's conveniently situated, with tram stops nearby making it easy to explore the larger Gold Coast area.
Also situated in Southport, Trekkers Backpackers offers affordable accommodations for travelers. It provides a comfortable and social atmosphere, with shared facilities like a kitchen, lounge area, and swimming pool. The hostel often hosts events to help travelers meet and socialize.
Though it's located in Surfers Paradise, it's worth mentioning due to its proximity to Southport. This hostel boasts a resort-style atmosphere, with amenities such as a swimming pool, hot tub, cinema, and even a bar. Dormitory rooms and private rooms are available, and its central location means you're in the heart of Gold Coast's action.
Another option close to Southport in Surfers Paradise, this hostel is popular among young travelers. With a communal kitchen, pool, and lounge areas, it encourages a social environment. The hostel also organizes nightly events, and its location means it's a short walk to the beach and other attractions.
Also situated in Surfers Paradise, this is a vibrant choice for backpackers. With its colorful interiors, events, and amenities like a cinema room, pool table, and communal areas, it's a place where travelers can socialize and relax after a day of exploring.
Luxury Apartments and Gold Coast Views
Apartments in Southport, such as 2-bedroom or 3-bedroom options, offer travellers a self-contained experience. The private self-contained air-conditioned apartments are perfect for those looking for a home away from home, with many boasting ocean views.
Towering over Southport, Meriton Suites is not just a hotel but also offers luxury serviced apartments. Guests can expect spacious living areas, gourmet kitchens, and panoramic views of the coastline, the hinterland, or the Broadwater. The establishment offers both indoor and outdoor pools, a spa, sauna, and fitness center, providing a blend of comfort and luxury.
Located close to the Broadwater Parklands, Sundale offers private luxury apartments with breathtaking views. These modern apartments come with fully equipped kitchens, spacious balconies, and access to a range of amenities including a gym, outdoor swimming pool, and barbecue facilities.
Overlooking the Broadwater, Brighton Shores provides luxurious apartments designed for both comfort and style. With facilities like an indoor heated pool, spa, sauna, gym, and outdoor pools, guests are ensured a lavish stay. The apartments are also conveniently located, allowing easy access to local cafes, shops, and parks.
Situated in a prime location, this luxury apartment tower offers residences with breathtaking views of the Gold Coast Broadwater, Surfers Paradise skyline, and the hinterland. Apartments are furnished with modern amenities, and guests can enjoy facilities such as a swimming pool, spa, and a dedicated barbecue area.
While it offers a mix of accommodations, their luxury apartments stand out with spacious layouts, modern furnishings, and serene views. Located in a tropical setting, the complex features a heated spa, pool, sauna, and gym. It's ideal for those looking for luxury combined with relaxation.
Budget-Friendly Cheap Accommodation in Southport
If you're looking for cheap accommodation, Southport has options. From hostels to budget hotels, you can find a place to stay that won't break the bank but still offers a quality experience.
Located adjacent to the Gold Coast Broadwater, Harbour Side Resort offers self-contained studio apartments and family apartments. It features amenities like a swimming pool, spa, and BBQ area. It's a comfortable choice for those looking for budget-friendly accommodations with basic necessities.
This accommodation provides a range of options, including cabins, villas, and camping sites. With a communal kitchen, swimming pool, and BBQ areas, it's ideal for travelers looking for an affordable stay with a community feel. Its location allows easy access to attractions in Southport and the larger Gold Coast area.
As one of the few bed and breakfasts in Southport, Arrival Lodge offers private rooms with shared bathrooms and facilities. It's a simple, clean option for those on a tight budget, providing a homely feel and basic amenities.
Griffith University Village
While primarily a student accommodation, Griffith University Village occasionally opens its doors to travelers, especially during university breaks. It offers fully furnished apartments with shared facilities, making it a great budget option for younger travelers or those looking to stay for longer periods.
Backpackers In Paradise
Located a short distance from Southport in Surfers Paradise, this is a budget-friendly choice for backpackers and young travelers. It provides dormitory-style accommodations, a communal kitchen, swimming pool, cinema, and a bar. While it's not in Southport proper, its accessibility and affordability make it worth considering for budget travelers.
Gold Coast Attractions Near Southport
Staying in Southport means you're close to attractions like Sea World, the Mirage, and more. Make a stop by Cavill Avenue and Warner Bros. theme parks, which are all easily accessible thanks to the light rail.
Broadwater Parklands
Located directly in Southport, the Broadwater Parklands is a sprawling green space ideal for picnics, family outings, and recreational activities. It features interactive playgrounds, a rock pool, and beautiful views of the Broadwater.
Situated in Southport, this is a major shopping destination with over 200 stores, a cinema, and a variety of eateries, offering a mix of fashion, entertainment, and dining options.
Just a short drive or tram ride from Southport, Surfers Paradise is the entertainment and tourism center of the Gold Coast. It boasts a world-famous beach, high-rise skyline, and a plethora of restaurants, bars, and shops. The vibrant nightlife and regular events make it a must-visit.
Located in Main Beach, close to Southport, Sea World is an aquatic-themed park with marine animal exhibits, shows, and rides. It's a favorite for families, offering insights into marine life and conservation.
A short distance from Southport, Harbour Town is an open-air shopping center known for its brand direct outlet stores, offering significant discounts on popular brands. Besides shopping, it also has dining options and a cinema.
Located north of Southport, The Spit offers a combination of beach, seaway, and parkland areas. Federation Walk is a 3.5 km pathway that starts at a corridor of native vegetation on the beach and extends north to The Spit, offering beautiful views and a serene walking environment.
Located in Southport, this world-class facility is perfect for those looking to swim or dive. With multiple pools, including an Olympic-sized one, it's a hub for both recreational swimmers and athletes.
Established in the 1940s, the Southport Yacht Club offers sailing, power boating, and cruising facilities. It's also a wonderful spot to enjoy waterfront dining.
Situated in Southport, this park commemorates the ANZAC legacy with a memorial and is a peaceful spot overlooking the Broadwater, perfect for reflection and relaxation.
A bit further in Surfers Paradise, this museum houses lifelike wax figures of celebrities, historical personalities, and a spooky chamber of horrors. It's a quirky and fun attraction for all ages.
Family Accommodations on the Gold Coast – Best for Families
For families, the NRMA Treasure Island Holiday Resort is a perfect choice. With attractions like rock pools and proximity to theme parks such as Movie World and Dreamworld, it offers something for everyone.
Located in Surfers Paradise, Paradise Resort is often dubbed the "family paradise" for good reason. The resort offers a unique combination of fun-filled activities and facilities specifically for kids, including a water park, kids club, ice-skating rink, and daily activities. Parents aren't forgotten, with relaxation zones, a spa, and entertainment options for adults too.
Adjacent to the Sea World theme park in Main Beach, this resort offers direct access to the marine park. With a monorail system connecting the resort to Sea World, families can conveniently explore the park's attractions. Additionally, the resort itself boasts a water park, kids' club, and various themed rooms that appeal to younger guests.
Located in Mermaid Beach, Turtle Beach Resort offers a family-friendly environment with a range of activities. Boasting splash zones, water slides, mini-golf, and a kids' club, it ensures children are entertained throughout their stay. The resort also provides family suites with cooking facilities for added convenience.
Situated in Biggera Waters, close to Harbour Town Outlet Shopping Centre, this resort offers a variety of accommodation options from campgrounds to cabins and villas. The family-oriented amenities include multiple pools, a water park, mini-golf, a kids' club, and outdoor movie nights. Its central location also allows families to explore various Gold Coast attractions with ease.
Located in Coolangatta, this accommodation offers spacious family suites with kitchen facilities, making extended stays comfortable. The highlight is the lagoon-style pool with water slides, appealing to both kids and adults. It's also situated directly opposite Coolangatta Beach, allowing families to enjoy beach activities conveniently.
Beach Resorts and Ocean Views
Southport's proximity to beaches like Main Beach, Kirra Beach, and Burleigh Heads means that many accommodations offer stunning ocean views. Beach resorts in the area provide not just views, but also easy access to the area's stunning beaches.
While primarily known for its luxury serviced apartments, many of these apartments offer panoramic views of the coastline, the hinterland, or the Broadwater. Guests can enjoy spacious living areas, gourmet kitchens, and modern amenities. The establishment offers both indoor and outdoor pools, a spa, sauna, and fitness center.
Situated right on the Broadwater, this park offers villas and camping sites that allow guests to make the most of the stunning waterfront location. Though not directly an ocean view, the serene views of the Broadwater, especially during sunrise and sunset, are picturesque.
A short drive from Southport, Palazzo Versace in Main Beach is a luxury resort offering spectacular views of the Pacific Ocean and the Broadwater. With its opulent design, the resort features award-winning restaurants, a spa, pools, and private marina.
Also located in Main Beach, not far from Southport, this resort offers direct beach access and many of its rooms and suites provide ocean views. Set amidst lush tropical gardens, the resort has several pools, spa facilities, and dining options.
Booking Tips for Gold Coast Accommodations
When booking, always check for accommodation deals, and see properties' refund policies. For instance, some offer a refund within a 24-hour period of booking. Also, consider the hotel's cancellation terms, like the ability to cancel prior to the hotel's cancellation deadline.
Gold Coast Accommodations frequently asked questions
Is the Gold Coast expensive to visit?
The Gold Coast offers a range of accommodations to fit various budgets. While there are luxury resorts and hotels, there are also budget accommodations, hostels, and mid-range options available.
Where is the best place to stay on the Gold Coast for families?
Families often prefer areas like Broadbeach, Surfers Paradise, and Main Beach due to their proximity to attractions. Resorts like Paradise Resort and Sea World Resort are especially popular among families for their kid-friendly amenities.
Which part of the Gold Coast is best for nightlife?
Surfers Paradise is the hub for nightlife on the Gold Coast, with a plethora of bars, clubs, and entertainment venues.
Are there pet-friendly accommodations on the Gold Coast?
Yes, several accommodations on the Gold Coast accept pets, but it's always advisable to check and confirm with the property directly before booking.
Which hotels offer beachfront views?
Many hotels in areas like Surfers Paradise, Broadbeach, and Main Beach offer direct beach access and ocean views. Examples include Peppers Soul Surfers Paradise and Sheraton Grand Mirage Resort.
Is public transportation accessible from most accommodations?
The Gold Coast has a light rail system (the G:link) that connects major areas. Accommodations near this line, especially in Southport, Main Beach, Surfers Paradise, and Broadbeach, provide easy access to public transportation.
What's the difference between staying in Southport vs. Surfers Paradise?
Southport is more laid-back and business-oriented, with a focus on the Broadwater Parklands and shopping. Surfers Paradise, on the other hand, is the entertainment and tourism heart of the Gold Coast, known for its beach, nightlife, and attractions.
Do most hotels offer airport shuttle services?
Some hotels offer shuttle services to and from Gold Coast Airport, but it's essential to check directly with the hotel. There are also independent shuttle services that operate between the airport and various parts of the Gold Coast.
When is the best time to book accommodations for the best deals?
Off-peak seasons, typically outside of school holidays and major events, often offer better rates. However, early booking and keeping an eye on deals or specials can also lead to savings.
Are there accommodations suitable for longer stays?
Yes, many serviced apartments and holiday rentals on the Gold Coast cater to longer stays, offering facilities like kitchens, laundries, and more spacious living areas.
Southport: A Traveller Review
Many travellers find Southport to be a perfect location on the Gold Coast. With its mix of attractions, accommodations, and convenience, it's a top choice for many. One review even mentioned, "Location is everything, and Southport delivers!"
Key Takeaways:
Southport offers a variety of accommodation from hostels to luxury apartments.
Key attractions include Broadwater Parklands, Cavill Avenue, and nearby theme parks.
Booking in advance and checking refund policies can save headaches later on.
Plan your Gold Coast adventure today and enjoy the best that Southport has to offer!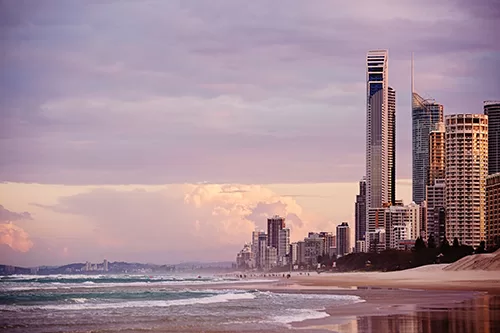 TRAVEL | EXPLORE | STAY | BE SAFE
Have you got travel insurance?
Its always a good idea to get travel insurance for yourself and your family before embarking on an oversease trip.
Travel | Explore | Stay | Be Safe is a marketing website. Travel | Explore | Stay | Be Safe  does not hold a financial services licence. The website does not take your personal circumstances into account; as such, all information provided should be considered general and should not be considered as financial advice and or advice or a recommendation. Whilst we take all reasonable care when preparing this information, we do not warrant its accuracy. This site links users to survice provider websites. ALL policy and or service details should be verified with the service providers and or insurance provider before you purchase. You should consider if the service providers and or insurance is suitable for you and read the service provider terms of service and or  policy wording before buying the insurance. We do not issue insurance. Users purchase directly from the service providers and or travel insurance provider.