TRAVEL
|

EXPLORE

|

STAY

|

BE SAFE
Perth Accommodation: Places to stay in Perth, compare best hotel deals
Guide to Perth hotel Accommodation: Places to stay in Perth and compare best hotel deals in Perth Australia. A guide to hotels in Perth
Why choose Perth for your next vacation?
When you stay in Perth, Australia's sunniest capital city, the experience is enriched by the choice of your hotel. Selecting the best hotel can amplify your journey, giving you access to the finest attractions and ensuring a comfortable stay. In this guide, we help both New Zealand travellers and international tourists navigate through Perth's myriad accommodation options.
Search for best accommodation deals in Perth, Western Australia, book your accommodation online here.
Have a look at our hotel booking search engine and find the best accommodation deals and quotes for your next holiday to Perth. Put in your hotel vacation dates and destination and compare Perthe hotel deals and room price quotes across all the mager hotels in Perth.
Remember to book your Travel Insurance now
Travel Insurance has become an important part of planning and booking holiday accomodation and flights. It is best to book your travel insurance at the same time as all your other travel bookings. Did you know that the best travel insurance begins the minute you purchase your insurance. It will cover you for unfore seen events before your holiday or trip comences abd during your holiday adventures. So dont delay get a quote today and book it now.
Stay in Perth: Navigating the Perth hotel landscape in the expansive Western Australia.
Perth stands as a beacon of culture, history, and modernity. As with its attractions, the accommodations in Perth offer a broad spectrum, from quaint hostels to the pinnacle of luxury at Perth hotels.
Perth City (CBD): The heart of Western Australia at the core of Perth is its bustling city centre.
Staying around Perth CBD not only places you in the thick of action but also provides seamless connectivity to other parts of Western Australia. Here, the pristine Swan River intertwines with the urban, offering panoramic views from various hotels in Perth.
Premium Accommodations
Best Hotel Recommendations For those not wanting to compromise on luxury, Perth offers an array of choices. Westin Perth and Crown Towers Perth stand as epitomes of luxury, while QT Perth brings in a contemporary touch. The Pan Pacific Perth, located near Perth Convention and Exhibition Centre, offers both comfort and convenience.
The Best Perth Hotels: A guide to accommodation for every traveller.
Perth, the sun-kissed capital of Western Australia, is a mesmerizing blend of urban sophistication and natural beauty. From its pristine beaches to its buzzing city center, Perth has something for every traveler. And when it comes to accommodations, Perth doesn't disappoint. Whether you're looking for opulent luxury, a chic boutique experience, or budget-friendly lodgings, this city has got you covered. Let's dive into some of the best hotels and accommodations Perth has to offer.
Luxury 5-Star Hotels in Perth
Located with sweeping views of the city's skyline and the picturesque Swan River, Crown Towers Perth sets the gold standard for luxury accommodations in the city. With state-of-the-art amenities, sumptuous dining options, and impeccable service, it promises a stay of unparalleled opulence.
Nestled in the heart of East Perth, this hotel offers a blend of sophistication and comfort. Modern interiors, gourmet dining, and a strategic location make it a top pick for those seeking luxury in the city's vibrant heart.
A sanctuary of relaxation and rejuvenation, Westin Perth boasts world-class spa facilities, spacious rooms, and an array of dining experiences. Its location in the city center makes it ideal for both leisure and business travelers.
4-Star Hotels in Perth
Known for its signature warm cookies upon check-in, DoubleTree in Perth offers comfortable rooms, a strategic location near major attractions, and services that cater to both holiday-goers and business travellers.
Offering splendid views of the Swan River, Pan Pacific provides a blend of luxury and convenience. With modern amenities, sumptuous dining options, and close proximity to the city's attractions, it's a preferred choice for many.
Boutique Hotels in Perth
Modern, chic, and distinctly unique, Tribe Perth breaks away from the traditional hotel model. With its contemporary design, community-focused spaces, and curated services, it offers a fresh and youthful experience.
This boutique hotel offers a quirky, design-driven experience. With its eclectic interiors, rooftop bar, and a focus on local art, QT Perth is where culture meets luxury.
Budget Hotels in Perth
Offering value for money, this hotel ensures a comfortable stay with all basic amenities in place. Its location in West Perth is ideal for those wanting to explore the city without breaking the bank.
Strategically located near major attractions, Four Points offers a blend of comfort and affordability. With its friendly service and cozy rooms, it's a top pick for budget travelers.
Backpacker Hostels in Perth
Located in the heart of the city, Hostel G offers a trendy, communal experience. With its modern design, social spaces, and events, it's a haven for young travelers and backpackers.
Rental Accommodations in Perth
For those looking to stay longer or prefer the comforts of home, Adina offers spacious apartments equipped with kitchens, living areas, and all the amenities needed for an extended stay.
Combining the luxury of a hotel with the comfort of an apartment, this accommodation option offers self-contained units, perfect for families or longer stays.
Whether you're a luxury seeker, a culture enthusiast, or a backpacking adventurer, Perth's diverse range of accommodations ensures that every traveler finds their perfect base to explore this vibrant city.
FAQ about finding a place to stay in Perth.
Which areas in Perth are best for tourists to stay?
Answer: For tourists, Perth CBD (Central Business District) is a popular choice due to its proximity to major attractions, shopping, and dining. Other great areas include Northbridge for its vibrant nightlife, East Perth for its scenic riverside accommodations, West Perth for its mix of residential and commercial vibes, and Fremantle for its historic charm and coastal appeal.
Are there budget-friendly accommodations available in Perth?
Answer: Yes, Perth offers a range of accommodations to fit all budgets. From quaint hostels and guesthouses in areas like Northbridge and Subiaco to affordable hotels and serviced apartments in and around the CBD, there's something for every wallet.
How close are Perth accommodations to public transportation?
Answer: Many hotels and accommodations, especially in the CBD and surrounding areas, are conveniently located near bus stops, train stations, and even ferry terminals. This makes it easy for visitors to explore both the city and other parts of Western Australia.
Is it recommended to stay near the Swan River?
Answer: Staying near the Swan River offers guests picturesque views and easy access to riverside activities like cycling, walking, and boat cruises. Several hotels, especially in the Perth CBD and East Perth, provide rooms with river views, making it a popular choice for both relaxation and aesthetics.
Are there family-friendly accommodations available in Perth?
Answer: Absolutely! Perth boasts a variety of family-friendly accommodations, from serviced apartments with multiple bedrooms to hotels offering family suites and amenities like pools, kids' clubs, and proximity to attractions such as Perth Zoo, Kings Park, and Adventure World Perth.
Remember, it's always a good idea to read reviews, check ratings, and possibly contact accommodations directly to get personalized answers tailored to individual needs and preferences.
Best Areas for Tourists: Hotel in Perth recommendations
If you're looking for a blend of luxury and nature, West Perth, with its view of Swan River, stands out. Hotels like Doubletree by Hilton Perth offer top-notch services coupled with breathtaking views
West Perth beckons travelers with its harmonious blend of urban luxury and the serene beauty of nature. Overlooking the majestic Swan River, this area is a haven for those who want both the tranquility of the water and the modern amenities of city life. Among its top accommodations, Doubletree by Hilton Perth stands out as an emblem of sophistication. Guests at this premier hotel are treated to unparalleled services, state-of-the-art facilities, and rooms that offer sweeping vistas of the river and city skyline. Whether you're in Perth for business or leisure, West Perth provides an experience that seamlessly combines the best of both worlds..
South Perth, meanwhile, offers a tranquil escape yet stays connected to the city buzz.
South Perth serves as a peaceful sanctuary for those seeking a respite from the city's hustle while still wanting to remain within arm's reach of its vibrant heartbeat. Nestled along the shores of the Swan River, this charming precinct presents a picturesque backdrop of serene waterfronts, leafy parks, and quaint cafes. Accommodations in South Perth range from boutique bed and breakfasts to upscale hotels, catering to both the leisure traveler and the discerning business visitor. A stay in this part of the city means waking up to the gentle sounds of nature, enjoying tranquil river walks at sunset, and yet being just a short ferry ride away from the bustling Perth CBD.
Often considered the cultural hub of Perth, staying here brings arts, galleries, and vivacious nightlife to your doorstep. Doubletree by Hilton Perth Northbridge and Art Gallery of Western Australia are notable mentions here.
Northbridge pulsates with the rich cultural tapestry of Perth, making it a top choice for those with an appreciation for the arts, history, and lively urban atmospheres. This dynamic precinct is a mosaic of cutting-edge galleries, theaters, and the iconic Art Gallery of Western Australia, making it a magnet for art enthusiasts and culture vultures. Night owls will revel in Northbridge's effervescent nightlife, with an array of clubs, bars, and entertainment venues that come alive as the sun sets. Among the accommodations, Doubletree by Hilton Perth Northbridge emerges as a premier choice, offering guests a luxurious stay right in the heart of the action. Opting for Northbridge ensures a stay that's both culturally enriching and excitingly urban.
With a mix of residential charm and modern attractions, these areas offer a diverse range of accommodations, from apartments to luxury hotels.
Subiaco and Burswood present a harmonious fusion of quaint residential allure and the latest urban amenities. Subiaco, with its tree-lined avenues and historic buildings, exudes an old-world charm that contrasts beautifully with the contemporary pulse of Burswood. Both suburbs cater to a broad spectrum of travelers. Whether you're seeking the cozy ambiance of a homely apartment in Subiaco's heart or the lavish opulence of a luxury hotel overlooking Burswood's vibrant entertainment precinct, you're bound to find an accommodation that resonates with your preferences. Staying in either of these areas guarantees an experience that marries the peacefulness of suburban life with the conveniences and attractions of modern living.
As a region blending history with modernity, East Perth offers various hotels, with the Intercontinental Perth City Centre being a top pick.
Nestled on the edge of the city's vibrant heart, East Perth elegantly intertwines its rich historical roots with the sleekness of modern-day architecture and amenities. The precinct is a treasure trove of heritage buildings juxtaposed against contemporary structures, offering a unique charm that's both timeless and innovative. Among the myriad of accommodation options that cater to diverse tastes and budgets, the Intercontinental Perth City Centre stands out as a beacon of luxury and comfort. Located strategically within the district, this hotel offers guests not only top-tier services and amenities but also a gateway to explore the fascinating blend of old and new that East Perth has to offer. A stay in this area promises a journey through time, where the echoes of the past harmoniously coexist with the rhythms of the present.
Perth for Tourists: Tourist attractions close to hotel accommodations in Perth.
Staying in Perth becomes more delightful when you're close to its attractions. Perth Zoo, a short drive from most central hotels, offers a day of fun and learning. The rich history of Perth Mint and the natural beauty of Rottnest Island are also within accessible distances.
Perth, a city that seamlessly blends the past, present, and future, offers a myriad of accommodations that mirror its character. Whether you're here for business, leisure, or a blend of both, Perth ensures every traveler finds their perfect
place to stay
.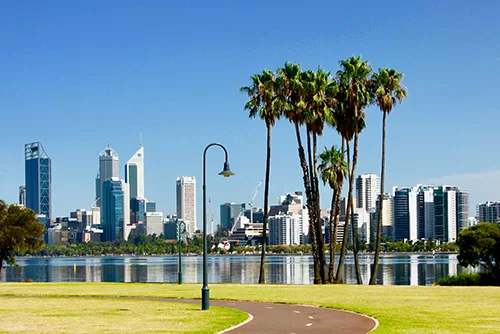 TRAVEL | EXPLORE | STAY | BE SAFE
Have you got travel insurance?
Its always a good idea to get travel insurance for yourself and your family before embarking on an oversease trip.
Travel | Explore | Stay | Be Safe is a marketing website. Travel | Explore | Stay | Be Safe  does not hold a financial services licence. The website does not take your personal circumstances into account; as such, all information provided should be considered general and should not be considered as financial advice and or advice or a recommendation. Whilst we take all reasonable care when preparing this information, we do not warrant its accuracy. This site links users to survice provider websites. ALL policy and or service details should be verified with the service providers and or insurance provider before you purchase. You should consider if the service providers and or insurance is suitable for you and read the service provider terms of service and or  policy wording before buying the insurance. We do not issue insurance. Users purchase directly from the service providers and or travel insurance provider.