TRAVEL
|

EXPLORE

|

STAY

|

BE SAFE
Best Luxury Hotel Accommodations in Gold Coast
Find the best luxury hotels in Gold Coast. Explore top accommodation options for an 5-Star stay. Book now!
Where to find luxury accomodation in Gold Coast, Australia
Nestled amidst the stunning coastal landscapes of Australia, Gold Coast stands as a beacon of luxury and comfort for discerning travelers. Whether you're seeking a tranquil beachfront retreat or a vibrant city-center hotel, Gold Coast has an impressive array of 5-Star and 4-Star luxury accommodations to fit every taste and budget. With a blend of world-renowned resorts and hidden boutique gems, this destination ensures an unmatched hospitality experience. In this article, we'll explore the top places where you can indulge in opulence and enjoy the finest accommodations that Gold Coast, Australia has to offer. Prepare to immerse yourself in a world of elegance and sophistication; your dream vacation awaits!
Search for best luxury 4-Star and 5-Star accommodation deals in the Gold Coast, book your accommodation online here.
Have a look at our hotel booking search engine and find the best accommodation deals and quotes for your next holiday to the Gold Coast Australia. Put in your hotel vacation dates and destination and compare Gold Coast hotel deals and room price quotes across all the mager hotels on the Gold Coast.
Remember to book your Travel Insurance now
Travel Insurance has become an important part of planning and booking holiday accomodation and flights. It is best to book your travel insurance at the same time as all your other travel bookings. Did you know that the best travel insurance begins the minute you purchase your insurance. It will cover you for unfore seen events before your holiday or trip comences abd during your holiday adventures. So dont delay get a quote today and book it now.
Luxury 5-Star Hotels in Gold Coast, finding best luxury Gold Coast hotel accommodation search for cheap luxury hotels.
The Gold Coast is home to some of Australia's most luxurious accommodations, providing world-class amenities, stunning views, and top-notch service. Whether you're looking for a beachfront retreat or a hinterland haven, the Gold Coast has a luxury hotel for every taste and occasion.
Find Glamorous Getaways on the Gold Coast with Surfers Paradise Hotel Deals.
Hilton Surfers Paradise Hotel: A Sky-High Luxury Resort on the Gold Coast.
The Hilton Surfers Paradise Hotel redefines opulence with its sky-high luxury offerings on Australia's stunning Gold Coast. Strategically located amidst the bustling Surfers Paradise precinct, this resort offers sweeping ocean views, a tantalising array of dining options, and world-class spa facilities. 
Guests can indulge in lavish rooms and suites that exhibit elegant design, state-of-the-art technology, and unparalleled comfort. Whether it's teeing off on a nearby golf course, unwinding in the serene spa, or exploring the vibrant nightlife, the Hilton Surfers Paradise Hotel provides the perfect base for a glamorous getaway. 
Experience a blend of style, sophistication, and modern amenities that ensure an unforgettable stay in this iconic Gold Coast accommodation.
Location:

Located in the heart of Surfers Paradise.

Amenities:

Four swimming pools, a fitness center, spa, and fine dining options.

Room Options:

Choose from stylish guest rooms, suites, and residences with sweeping views.

Special Features:

Rooftop bar, nearby to the beach and shopping areas.
The Star Grand at The Star Gold Coast: Casino Chic on the Gold Coast
The Star Grand at The Star Gold Coast is the epitome of casino chic, offering a vibrant and luxurious gaming experience combined with five-star accommodations on Australia's renowned Gold Coast. Located in Broadbeach, this stunning resort is a hub for high-end entertainment, gourmet dining, and thrilling casino action. 
Guests can choose from a variety of sleek rooms and suites, each designed to pamper and impress with modern amenities and sumptuous decor. The casino itself is a dazzling playground for both novice and seasoned gamblers, featuring a vast array of games from slots to table classics. Beyond the casino floor, guests can indulge in award-winning restaurants, relax at the opulent spa, or catch a live show at the on-site theatre. 
The Star Grand at The Star Gold Coast isn't just a place to stay; it's a destination that offers a unique blend of excitement and elegance, right in the heart of one of Australia's most sought-after locations for accommodation.
Location:

Close to Broadbeach.

Amenities:

Casino, outdoor pool, variety of restaurants.

Room Options:

Elegant rooms and suites with modern design.

Special Features:

Regular live entertainment, gaming experiences.
Main Beach Luxury Hotels: Sophisticated Accommodation in 5-Star Gold Coast Hotels.
Sheraton Grand Mirage Resort: Experience Beachfront Beauty on the Gold Coast.
Nestled along the pristine shores of the Gold Coast, the Sheraton Grand Mirage Resort offers guests an unforgettable experience of beachfront beauty and luxury. With its sparkling lagoon pools, lush tropical gardens, and direct access to the sparkling sands of the beach, the resort is a paradise for those seeking relaxation and adventure alike. 
Each room and suite is thoughtfully designed to capture the essence of coastal living, providing stunning ocean views and contemporary comfort. Guests can dine at award-winning restaurants, indulge in rejuvenating spa treatments, or explore the nearby attractions of Surfers Paradise and Main Beach. 
The Sheraton Grand Mirage Resort also offers exceptional facilities for events and weddings, making it an ideal choice for both leisure and business travelers. Discover a world of elegance and tranquility at this iconic Gold Coast accommodation, where the ocean's allure meets unparalleled service and style.
Location:

Exclusive beachfront location at Main Beach.

Amenities:

Outdoor pool with a swim-up bar, fitness center, spa.

Room Options:

Rooms and villas with ocean or lagoon views.

Special Features:

Direct beach access, nearby Sea World, and Marina Mirage Shopping Centre.
Ashmore: Tranquil Luxury Hotel Accommodation
Ashmore's RACV Royal Pines Resort on the Gold Coast: A Golf and Spa Retreat.
Situated in the serene suburb of Ashmore on the Gold Coast, RACV Royal Pines Resort is the perfect escape for golf enthusiasts and spa seekers alike. Boasting an impressive 27-hole championship golf course, it has become a favorite destination for both professional and amateur golfers. The expansive greens and meticulously designed fairways offer a thrilling challenge that merges seamlessly with the breathtaking coastal scenery. 
But the allure of the resort doesn't end at the golf course. Guests can also indulge in the on-site spa, offering a selection of rejuvenating treatments that cater to both body and soul. Elegant accommodations, diverse dining options, and a host of recreational activities complement the golf and spa experiences, making RACV Royal Pines Resort a comprehensive retreat. 
Whether you are perfecting your swing or seeking tranquillity in the spa, this Ashmore-based resort offers a unique blend of luxury and leisure in the heart of the Gold Coast's accommodation offerings.
Location:

Located within the lush Royal Pines golf course.

Amenities:

Championship golf course, tennis courts, spa, multiple restaurants.

Room Options:

Spacious rooms and suites with scenic golf course or coastal views.

Special Features:

Host of the Australian PGA Championship, family-friendly options.
Broadbeach: Chic Coastal Comfort stay in Gold Coast Hotel
Sofitel Gold Coast Broadbeach: French Elegance
Immerse yourself in a world of French elegance at the Sofitel Gold Coast Broadbeach, a luxurious haven that embodies sophistication and charm in the heart of Australia's Gold Coast. This exceptional resort combines the refined aesthetics of French design with a laid-back coastal vibe, offering guests a truly unique and opulent experience. 
The rooms and suites exude a timeless elegance, adorned with chic furnishings and modern amenities that guarantee a comfortable stay. Indulge in gourmet cuisine at the resort's acclaimed restaurants, where French culinary artistry meets fresh local produce. Just steps from the beach and within walking distance to some of Broadbeach's most exciting attractions, the Sofitel Gold Coast Broadbeach also features a lavish pool, spa, and state-of-the-art fitness center.
Whether you are seeking a romantic getaway or a sophisticated family vacation, the Sofitel Gold Coast Broadbeach promises a truly extraordinary stay, reflecting the art de vivre that is synonymous with French-inspired accommodation on the Gold Coast.
Location:

Overlooking the Pacific Ocean in Broadbeach.

Amenities:

Outdoor pools, tennis court, fitness centre, French-inspired dining.

Room Options:

Modern rooms with private balconies and sea views.

Special Features:

Adjacent to the Broadbeach Mall, close to Kurrawa Beach.
Gold Coast's Luxury Awaits your booking!
From the bustling streets of Surfers Paradise to the serene landscapes of the hinterland, Gold Coast's luxury hotels offer unparalleled elegance and comfort. Indulge in world-class dining, unwind at award-winning spas, or enjoy the thrilling entertainment options, all while surrounded by breathtaking views.
With properties like Hilton Surfers Paradise Hotel, Sheraton Grand Mirage Resort, and RACV Royal Pines Resort Gold Coast, finding the perfect place for a lavish stay is easier than ever. Book your unforgettable luxury experience today and discover the Gold Coast like never before!
This guide to luxury accommodations in Gold Coast showcases the best options for travelers seeking top-tier experiences. With elegant design, exceptional service, and premium amenities, these hotels represent the finest hospitality Gold Coast has to offer.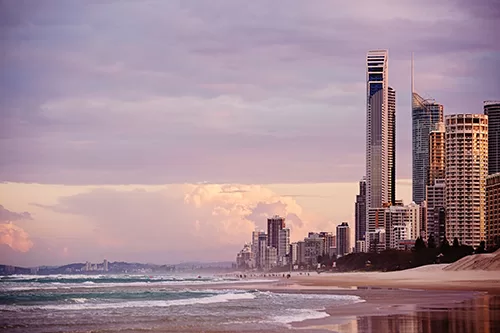 TRAVEL | EXPLORE | STAY | BE SAFE
Have you got travel insurance?
Its always a good idea to get travel insurance for yourself and your family before embarking on an oversease trip.
Travel | Explore | Stay | Be Safe is a marketing website. Travel | Explore | Stay | Be Safe  does not hold a financial services licence. The website does not take your personal circumstances into account; as such, all information provided should be considered general and should not be considered as financial advice and or advice or a recommendation. Whilst we take all reasonable care when preparing this information, we do not warrant its accuracy. This site links users to survice provider websites. ALL policy and or service details should be verified with the service providers and or insurance provider before you purchase. You should consider if the service providers and or insurance is suitable for you and read the service provider terms of service and or  policy wording before buying the insurance. We do not issue insurance. Users purchase directly from the service providers and or travel insurance provider.